Now I know a lot of us believe that the more we pay to slay the more we "around the way" (a little L.L. Cool J for ya) but the truth is, that is not always the case. Rather, we can save our chips (aka: money) and spend it on other things like drinks with the girls or for that trip to Europe we have been dreaming about.  You know where I'm going with this. 😉
Bascially, what I am saying is you don't always have to spend a lot to receive quality.
Being that I have been on both ends of the spectrum in beauty I have learned enough to share a diary full of secrets and more. Everything shared in category OBSESSED is that of my own knowledge because I have seen, I have heard and I have tried. This is the first of many dupes (aka: duplicates) I will share with you along the way. I thought to start with a hair care product that I have used off and on for years. I had never left … until now, because it rocks! You may know it as Pureology.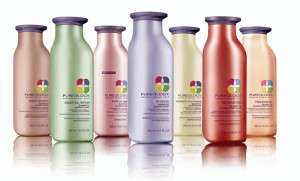 Pureology was created specifically for the salon care professional and their clientele. It is a sulfate-free product and has an Anti-Fade Complex system infused in what feels like luxury. It also ensures salon care vibrancy with each wash. There is a color care system available for all hair care concerns as the range is quite broad. While this sounds wonderful, there is a price to pay and it ain't cheap. You are looking at $29.99 a bottle!
That's a lot right!? We are all guilty of the paying the hefty price tag for beauty products.
Well, I have good news for us today! There is a color care system available at most retailers, specifically Target, and it is priced beyond reasonable. This product not only mirrors the packaging (it's actually nicer) but also mirrors both the features and benefits of Pureology. I swear by this product as it has it will give you everything Pureology does with a price tag you can afford. I color my hair 1-2 times a month (I know uugh) and it has repaired and restored my hair follicle and has also enhanced my color , its longevity and vibrancy. Let's just say, I am very pleased. I mean, I am writing about it!
The product I am sharing with you is … Drum roll please! …. Loreal Paris Hair Expertise and it retails for ONLY $6.99 a tube. Just like Pureology, they carry many systems to address all hair care concerns. There are a total of 6 systems.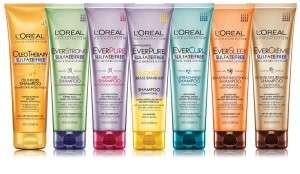 You have your Color Care System, Replenishing System, Curl Care System, Smoothing System, Moisture System, Hair & Scalp System and your Brass Banisher System. ALL are sulfate free and serve different purposes and in some cases similar but different. I have listed them all below both in category and concern.
EverPure  – Color Care System 
Moisture: Leaves hair hydrated, manageable and silky soft. This rich lathering system is infused with refreshing rosemary and juniper Deeply nourishes, revitalizes and softens.
Volume:  Leaves hair soft and full of body. This system is infused with refreshing rosemary and juniper. Provides gentle cleansing and beautiful volume.
Repair & Defend: Designed for damaged, color-treated hair. Formulated with an exclusive Antioxidant Complex – Acai, Goji and a UV filter – this system helps repair damaged hair while protecting from daily color aggressors. Hair is stronger, more resistant and helps color stay pure wash after wash. A personal favorite!
OleoTherapy – Replenishing System
Oil Infused: First replenishing system for dull, dry or damaged hair. Formulated with a 6 flower oil blend, this system provides intense nutrition and shine. Hair is restored to smooth and silky and provides deep nutrition and intense illumination. Ideal for  dull, dry or damaged hair. There are other products found within this system.
Ever Curl – Curl Care System
Hydracharge: EverCurl Hydracharge quenches and softens perfecting each curl's shape. It infuses hydrating nourishment without weigh-down. Curls are softer, more manageable without frizz. Its rich lather and natural aromatic properties help invigorate the senses. There are other products found within this system.
EverSleek – Smoothing System
Reparative Smoothing: Gently cleanses while weightlessly smoothing damaged, distressed hair. It nourishes and smoothes even the most sensitive strands, leaving hair manageable and shiny. Safe for chemically straightened hair. There are other products found within this system.
EverCreme – Moisture System
Instense Nourishing: Clean your hair without stripping it using EverCrème Intense Nourishing. Infused with Omega-3 and 6, this formula gently cleanses and restores lost moisture by instantly wrapping each strand with triple action deep conditioners. Hair is left healthy-looking and manageable—without any weigh down. There are other products within this system.
EverStrong – Hair & Scalp System
Thickening: For hair that needs extra strength and volume, discover hair care that's so gentle, yet so strong. This system contains L'Oréal's patented Amino Acid Complex, which helps weak, thinning hair to look thicker while caring for the scalp. It gently cleanses and fortifies the scalp and adds body to fine, limp hair, leaving it strong and silky. Rich lather and natural aromatic properties from rosemary and juniper help energize and invigorate the senses, boosting circulation for healthier scalp and hair. There are other products within this system.
Brass Banisher System
 Blonde: Neutralizes brassiness in just 1 use* while deeply nourishing hair to restore hydration. Boosts your blonde for fresh, pure lustrous color for up to 32 washes. There is one other product found within this system.
Note: When empty, I suggest switching it up once or twice by trying others within the line. By the time you've done that, I will have provided other dupes. 😉 Until then shine with confidence cause we fierce!
All words and creative direction my own.