Since being licensed as an esthetician in 2009 I have been asked numerous times, the following questions: What is exfoliation? How does it benefit my skin? When do I exfoliate? Am I using the appropriate exfoliant for my skin?
Because of these questions, it prompted me to shed some light on the subject with hopes that my readers will receive helpful answers. To start, I would like to address the three types of exfoliants that are available.
They are chemical, scrubs and enzymes. 
Chemical: Chemical exfoliants work to dissolve dead skin cells and any dirt and oil that binds those cells to your skin. This is the most universal type of exfoliant as it's more gentle and suitable for even sensitive skin. These don't contain any type of physical buffing ingredients such as grains or particles.
Scrubs (aka: Physical): Physical exfoliants are designed to scrub away dead skin cells using physical particles. These aren't recommended for anyone with sensitive skin as the particles may irritate the skin. However, gently scrubbing with a soft washcloth or loofah is also a type of physical exfoliation and is suitable for sensitive skin.
Enzymes: Enzymatic exfoliation is a plant active based therapy and some would argue are similar to that of a chemical exfoliation but enzyme exfoliation is known to be gentler.
Exfoliation is one of the most important steps in your routine because it sloughs off dead skin cells revealing a brighter appearance. It also assists in the delivery of your skin care products in a way that penetrates deeply into the skin making them much more effective. To add, exfoliation is only to be incorporated 2-3 times a week at a maximum. This step is always your step 2 after your cleanse and before your moisturizer and sunscreen. Because not all of us are the same skin type and may experience conditions such as the very common rosacea or eczema I have listed one that would suit each of us.
TOP 5 recommended products to suit your individual needs. All are effective and have been used personally.
NIA 24
Cost: $82
Type of exfoliant: Chemical
Best Suited: All skin types
Purchase: http://www.nia24.com/rapid-exfoliating-serum-1970.html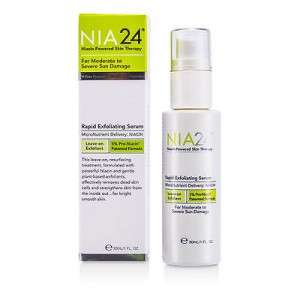 As you age, your skins natural exfoliating process begins to slow down causing skin to look dull and dry. This leave-on resurfacing treatment formulated with plant based exfoliants removes dead skin cells, while Niacin strengthens skin from the inside out to promote optimal cell turnover and reduce the visible signs of sun damage. Safe enough for daily use.
Dermalogica Daily Microfoliant
Cost: $55
Type of exfoliant: Enzyme
Best suited: All Skin Types
Purchase: http://www.ulta.com/ulta/browse/productDetail.jsp?productId=prod2152621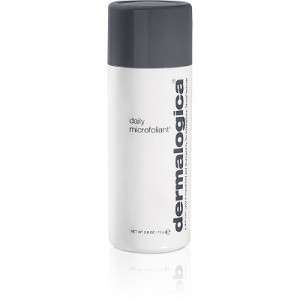 Rice bran and rice extract gently microfoliate the skins surface to facilitate penetration of not only your skin care products but its skin brightening complex. Dermalogica's microfoliant rice-based enzyme powder activates upon contact with water releasing papain, salicylic Acid and rice enzymes to smooth the skin and accelerate skin renewal.
Acure Organics Brightening Facial Scrub
Type of exfoliant: Scrub
Cost: $9.99
Best Suited: All Skin Types
Purchase: http://www.target.com/p/acure-organics-brightening-facial-scrub-sea-kelp-cgf-4-oz/-/A-16453836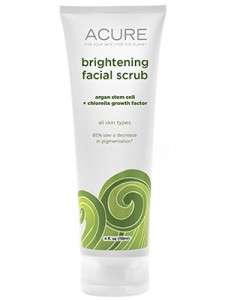 This natural exfoliant derives from sea kelp and lemon peel to gently exfoliate meanwhile French Clay detoxifies and removes impurities from your pores without stripping you skins natural moisture barrier. Organic Chlorella Growth Factor, Argan Stem Cells help to stimulate cell turnover and boost regeneration meanwhile Madonna Lily stem cells help in brightening. It is also known as gluten free, Phthalate-free and labeled paraben-free.
Boots Simply sensitive jelly ball scrub
Type of exfoliant: Scrub
Cost: $6.49
Best Suited: All skin types specifically sensitive.
Purchase: http://www.target.com/p/boots-simply-sensitive-jelly-ball-scrub/-/A-18821814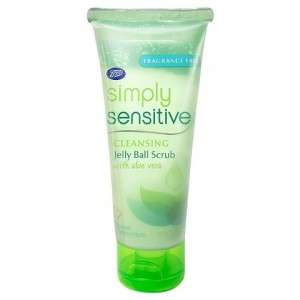 This gentle face scrub contains innovative jelly balls that feel soft on the skin, gently remove impurities, and unblock pores, leaving your skin soft and soothed.  It contains aloe vera to soothe the skin and is color and fragrance free.
Boots No7 Total Renewal Microdermabrasion Exfoliator
Type of exfoliant: Scrub
Cost: $17.99
Best Suited: All skin types but sensitive.
Purchase: http://www.target.com/p/boots-no7-total-renewal-micro-dermabrasion-exfoliator-2-5-fl-oz/-/A-10250524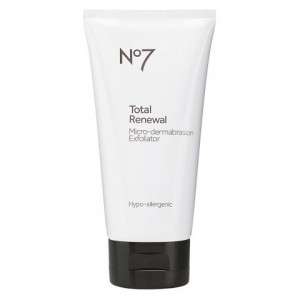 Get the transformative effects of microdermabrasion including smooth, glowing skin in an easy-to-use at-home skincare treatment. This exfoliant consists of aluminum oxide micro-crystals to refine and renew skin. It sweeps away dead skin cells to deliver results you can see from the very first time you use it. Regular use will help visibly reduce the appearance of wrinkles and fine lines, fade dark spots and fix uneven skin tone. It can visibly improve the appearance of blemish prone skin. Your skin will feel super soft and noticeably smoother within 4 treatments. It is hypoallergenic and dermatological recommended.
All words and creative direction my own