I am sure we can all relate to some degree that in the winter our skin suffers more than we can often control or even know how.
Why is that you ask?
Because there is an abundant number of products to choose from that leaves us, well, overwhelmed.
As a licensed esthetician, I have used a countless number of products. Items with a price tag ranging as high as $375 per and as low as $7 and I must say that I have found the following items to deliver!
VICHY'S SKIN SLEEP
This night cream is the most luxurious I have used since the prestigious YSL Temps Majeur. It has a gel-balm texture that is simply divine. Due to the texture you have a nice slip, which aids in massage and encourages microcirculation. A combination skin type can also comfortably use this without feeling a residue the next morning. This cream is packed with Hyaluronic Acid, LHA and Caffeine.
HYALURONIC ACID
Hyaluronic acid is found naturally in the body and is responsible for making the skins surface plump and soft. It also holds up to 1000 times its own weight in water, ensuring that skin is properly hydrated.
LHA
The LHA used in Skin Sleep is derived from salicylic acid and works as a biological exfoliator. It gently buffs skin to smooth its texture, and is responsible for the ultra soft feel of your skin the morning after using the formula. Night after night, skin looks more radiant.
CAFFEINE
Draining, decongesting and energizing, caffeine is the ultimate pick-me-up for tired skin.
THE RESULTS
Healthier looking skin that come morning appears well rested as though it had a detox. Your skins tone is more even and the texture voluminous. If you are in your twenties or thirties and you're curious about anti-aging products or have any specialized skin concerns (acne, rosacea, extreme sensitivity), I strongly believe this will be your ultimate night cream amongst other things within this product line like Aqualia Thermal power serum known to hydrate for up to 48 hours. That review to come!
Cost: $35
Find Vichy at Target in their premier skin care section!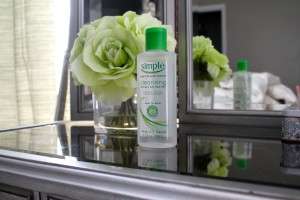 SIMPLE MICELLAR WATER
Micellar water has definitely gained a lot of attention most recently since its debut in 2012.
It has long been a go-to source for light, yet effective, cleansing and makeup removal but chances are you have either yet to hear of it or you have seen it advertised most recently on television.
A go-to source for who?
Makeup artists on photo shoots and those working backstage during Fashion week have sworn by micellar water's ability to get rid of makeup without the use of water. It's not a household name yet in the states, but that is currently changing as stateside brands are taking a cue from the country of origin (France) and placing their own versions on store shelves. What makes it special? And is it right for you? Read on to find out.
Micellar water gets its name from the science behind the product. It's made of "micelles" which are tiny oil molecules suspended in water. Contrary to what you might think at first, the solution never feels oily and never stings which means you can use it all over your gorgeous face from your forehead to your neck, even your décolleté and if you are like me, behind your ears too!
Rather than being made of a foaming solution that contains soaps and harsh chemicals made to grind away dirt and makeup, micellar water is different. The tiny molecules grab on to all of the unwanted particles clinging to your face and dissolve them. It's a no brainer facial cleansing companion to assist in streamlining your cleansing routine. I mean, you don't even need to follow up with a toner anymore. If you have a lazy night and we all know we have those, we get tired and just want to go to sleep. Take the micellar water to a cotton round or a cotton square and take of the day in less than 60 seconds!. Skin feels hydrated and most importantly, clean. Much better than those towelettes in my opinion.
Now you can plan on seeing different versions ranging from $6 – $27 that speak to your personal taste as some micellar waters boast delectable, light scents, the inclusion of botanical extracts but Simple is well, simple. Made with triple purified water and multi-vitamins, there are no artificial perfumes or dyes, no harsh chemicals which makes the water "kind to skin". Enjoy!
Cost: $6-7
http://www.target.com/p/simple-micellar-cleansing-water-6-7-oz/-/A-16751167#prodSlot=medium_1_3&term=micellar+water