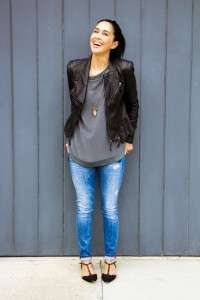 IN CALIFORNIA IT IS IMPERATIVE TO OWN A LITTLE BLACK NUMBER AND NO I AM NOT REFERRING TO A DRESS ALTHOUGH I WILL NOT DENY THAT HAVING A BLACK DRESS IS EQUALLY AS IMPORTANT IN ONE'S WARDROBE. I AM MORE SO REFERRING TO A LEATHER JACKET. I LITERALLY WEAR THIS THING 3 DAYS A WEEK AT A MINIMUM RIGHT NOW.
I AM ALSO A HUGE FAN OF FINGERLESS GLOVES AND FIND IT A MUST HAVE FOR CALI WINTER WEATHER. YOU CAN KEEP YOUR HANDS WARM WITHOUT OVERHEATING
NOW WHEN IT COMES TO ACCESSORIES I LIKE TO KEEP THINGS TO A MINIMUM. LIKE STEVE JOBS SAID, SIMPLICITY IS THE ULTIMATE SOPHISTICATION. I DON'T TAKE THAT LIGHTLY. IN FACT, I APPLY THAT TO ALMOST EVERYTHING IN MY LIFE.
WITH THAT SAID, NO MORE THAN THREE PIECES. AS YOU SEE HERE IN THE PHOTO, I HAVE ON (STUDS) EARRINGS AND A DOG TAG HANDMADE BY A LOCAL ARTIST HERE IN LONG BEACH CITY.
CASE IN POINT… LESS IS MORE. THAT'S ALL
ALL WORDS AND CREATIVE DIRECTION MY OWN.