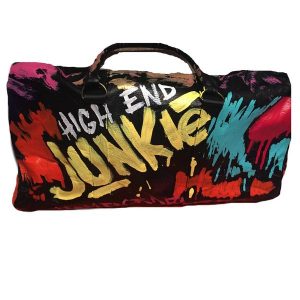 The brand is called High End Junkie and what had me at attention was that of singer/songwriter Teyana Taylor paying a visit to Vanity Fair last week. Teyana has skyrocketed to a new level of fame most recently due to her slammin body that seductively danced the room of a gym in Kanye Wests unveiling track FADE at the MTV VMA's last month. If there is one thing I will state other than the obvious about her, is that she is the ULTIMATE Cute Tomboy. Which is why it was of no surprise that she sported such a DOPE hat accomponied by a quilted black bomber jacket, immediately catching my street keen eye. She's just all around fly, and she knows it.

Cute Tomboys embrace their inherent sense of style influencing both those alike, and those around them. Case in hand here, and is exactly why it was a MUST that I find out where the THIS is ART specialty hat came from.
I am inspired with each day GOD gives me to visualize and appreciate artistic expression specifically through art, fashion and music. I have an eye for all things tasteful, original, playful and rebellious allowing me to share with others, the things I LOVE.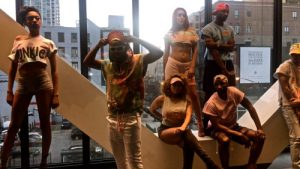 High End Junkie was founded in 2013 by south side Chicago native Q. Hudson and in doing my research on this One-of-A-Kind brand and curator, I have learned that not only is the line super cool but the brands ambassador is equally the same. She has an altruistic manerism about her that draws an immediate respect of her character. I like that (DJ Khaled voice)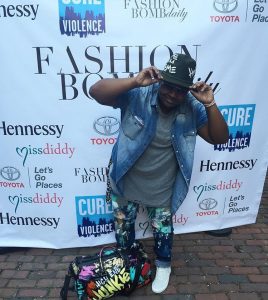 Since HEJ's birth, the brand has experienced immense growth largely due the attention received from such celebrites as Chris Brown, The Game, Blac Chyna, Iman Shumpert, Teyana Taylor and many others. What I love most about this line is that it exudes quality while still maintaining street flava leaving there something for everyone.
I am a huge believer of giving back and can only guess that a part of their success is also attributed to the idea of doing just that. As you see below, Q makes it a point to stay connected with our youth. Here you see High End Junkie present at a non-profit back 2 school event with the goal in mind of enhancing the lives of children. Priceless.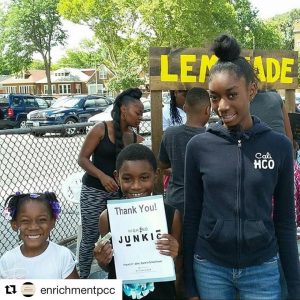 While the brands name, to some, may have a negative connotation it is indeed, the complete opposite. As said by Q herself, "It's our goal to encourage people to focus on GOOD ADDICTIONS ONLY. Having an addiction to the finer things in life should push you to be the best, and allow you to set yourself up to be in a position to attain and maintain the lifestyle you desire. " Couldn't agree with her more here!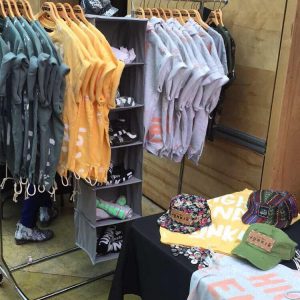 The line features hand painted apparel and accessories for both men and women. This includes hats, hoodies, denim jackets, flannels, sweatshirts, long sleeve button ups, tees, socks and more! Fabrics are hand selected and each item is handled with TLC giving you an original piece each and every time!
You can purchase High End Junkie online or at one of their many eventful Pop-Up  shops with the most recent coming up on October 2nd in Hollywood. The event is being held from 2pm – 8pm and is free to enter. You must register before attending and don't forget your pocket books because if you are as OBSESSED as I am, you won't be leaving empty handed. Especially without that hat (hee hee). With that said, see you there!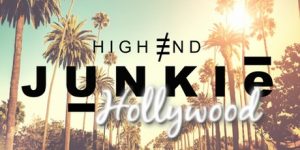 High End Junkie on Instagram
All words and creative direction my own.