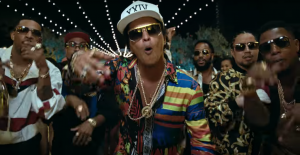 I will be quite frank with you, I said it earlier this year after he hit the stage during Superbowl 50 alongside Beyonce and Coldplay and I will say it again … this guy has MAD talent, SUPERFLY style, IDENTIFIABLE lyrics, GROOVE NASTY dance moves and an EAR for what a vast majority of people long to hear without comprimising his identity. He gives us every bit of himself at just the right time, everytime.
For many, this is very hard to do in an industry that is constantly conforming, so props to Bruno for going against the grain. This is more the reason he impresses me time and time again.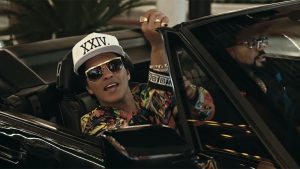 In his most recent video premiere titled 24K Magic Bruno holds true to his streetfly image in his favored designer Versace fabrics taking us back to the "feel good" days with an 80's influence and signature funk sound fusing electronica, R&B and Auto-Tune. There are two obvious reasons we should ALL be excited about this. The first … if you are like me, you were and still are a fan of the late Roger Troutman who was the founder of Zapp and a leading force in the funk movement leaving you to appreciate the Talk-Box, Auto-Tune we hear from Bruno and his collaborates in this track.
When an artist premieres their first song, it sets the tone for the rest of the album right? At least that's what we hope. With that said, the second thing I am sure we are to expect is yet another succesful album from MARS and in this case, with much throwback appeal.
The album is said to release on November 18th and is available for pre-order on i-Tunes now.
Until then, enjoy his funktastic video with over 37 million views in just over a week!
All words and creative direction my own.