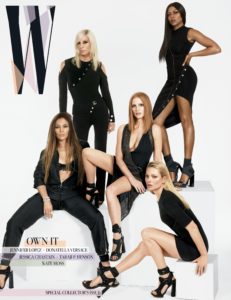 Cute Tomboy's motto is "United by Spirit" so of course, it's undeniable that when I see us come together, it only futher explains why I do what I do. When we unite there is a sense of nostalgia that lingers in the subconscious meanwhile leaving you instantly empowered and that much more proud to be a woman.
This years Spring issues of W, Vogue and Porter magazine had caught my eye and shed light on where we are in the world of fashion at this very moment, at this very time. What was proven was that WE own the industry. Just as russian digital entrepreneur Miroslava Duma recently said when interviewed for In Style Magazine, was "Fashion is one of the advantages that women have, there are no limits to what women can wear".
More so today, the idea of us coming together has never been more prevalent. Not just in the world of fashion but in the world all together. Although no two of us alike, we are all United by Spirit, we are POWERFUL and we are to LOVE and be LOVED.
The photos seen in springs issue of W mag featuring Jennifer Lopez, Taraji P. Henson, Jessica Chastain, Donatella Versace and Kate Moss (see link below for Kates photo in the nudie) are depictions of the gifts we were given to take ownership of. They exude power, confidence, strength and resilience.
All words describing the freedom we have to live life the way it was intended to.
W Magazine March 2017
Photographer – Mert Alas and Marcus Piggott
 Hit the link below to see the stunning 43 years young Kate Moss in this shot taken by Photographers Mert Alas and Marcus Piggott
Porter Magazine March 2017
Photographer – Cass Bird
Here we see Russian model, Natalia Vodianova grace Porter magazines Spring 17 cover wearing a comfy tee spray painted with words "Superwoman" across her chest … needless to say, Love it! #GIRLPOWER
Vogue Magazine March 2017
My favorite photographer – Inez & Vinoodh
I was thrilled when I came across this cover being that it immediately reminded me of one of my favorite Peter Lindbergh photos titled, "The Wild Ones" (seen on the right) back in 1991.
To boast, you again have a powerful cover but in this particular case, reflecting a fashion industry that is now embracing all forms with plus-size model Ashley Graham right where she belongs. This makes it her first Vogue cover proving that what we choose to do with the gifts we were given  are up to us!
Whether past or present, we have and are forever UNITED BY SPIRIT!
All words and creative direction my own.