THERE HAS BEEN A LOT OF HYPE CONCERNING NAOMI CAMPBELL'S SULTRY LIP COLOR THIS WEEKEND AS SHE SLAYED THE WHITE CARPET AT THE MTV VIDEO MUSIC AWARDS AND IF YOU'RE LIKE ME, YOU WERE ASKING YOURSELF, "WHAT MAGICAL CONCOCTION IS THAT"!?  NOW YOU KNOW I HAD TO FIND OUT.
FOR ONE, IT'S NAOMI SO OF COURSE SHE MAKES EVERYTHING LOOK FABULOUS BUT WHAT WAS EVEN MORE EXCITING WAS THAT IT TURNS OUT, THE COLOR WORN BY MS. CAMPBELL IS ONE OF THREE LIP KITS THAT ARE SINFULLY UNIQUE TO NONE OTHER THAN THAT OF BRITISH INNOVATOR, CREATOR AND MAKE-UP ARTIST,  PAT MCGRATH.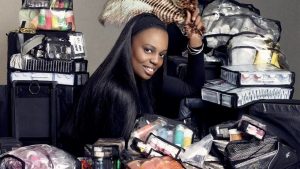 MCGRATH HAS CREATED BEAUTY LOOKS IN THE FASHION BIZ SINCE THE EARLY 90'S AND HAS SINCE BEEN PROCLAIMED AS THE MOST INFLUENTIAL MAKE-UP ARTIST IN THE WORLD BY VOGUE'S ANNA WINTOUR.
SHE LATER WORKED IN DESIGNING ARMANI'S COSMETICS COLLECTION IN 1999 AND IN 2004 WAS NAMED GLOBAL CREATIVE DESIGN DIRECTOR FOR P&G (PROCTOR & GAMBLE) SPRINKLING (HENSE THE GLITTER) HER MAGIC OVER THE LIKES OF COVER GIRL AND MAX FACTOR, AMONGST OTHERS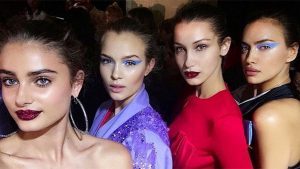 SHE MOST RECENTLY LAUNCHED PAT MCGRATH LABS GIVING US A REVEAL OF HER GLITTER SHADES BACK IN JULY ON THE ATELIER VERSACE RUNWAY IN PARIS.
AS YOU SEE BELOW, SHE COULDN'T HAVE MADE MORE OF AN IMPACT THAN TO DEBUT IT ON THE "OG" OF ALL CATWALKS, MS. NAOMI CAMPBELL.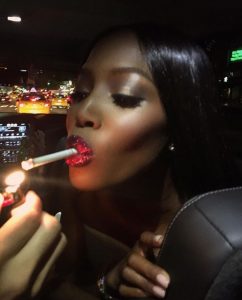 THE KIT IS CALLED LUST 004 AND AS I MENTIONED EARLIER, COMES IN THREE SHADES. THE COLOR YOU SEE ON NAOMI IS IN BLOODWINE & VERMILLION VENOM.
THE WAY TO ACHIEVE THIS LOOK IS BY APPLYING THE MATTE LIP SHADE VERMILLION VENOM FIRST, THEN LAYER WITH THE CLEAR VINYL GLOSS, YOU WILL THEN APPLY THE METALLIC PIGMENT AND FINISH WITH THE MESMERIZING MICROFINE GLITTER BEDAZZLING ALL WHO DARE.
CREATIVITY IS YOUR BEST MAKEUP SKILL, DON'T BE AFRAID TO EXPERIMENT – PAT MCGRATH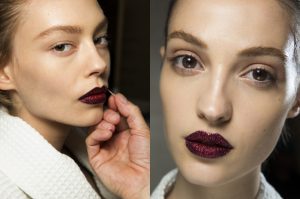 FIND YOUR DECADENT SHADE DURING TODAY'S LAUNCH AT 12 PM EST @ PATMCGRATH.COM OTHERWISE AT SEPHORA ON SEPTEMBER 8TH. RETAIL PRICE IS $60 AND IF YOU'D LIKE AN EMAIL NOTIFICATION FROM SEPHORA WHEN ITS RELEASED, THEY OFFER THAT OPTION TO YOU AS WELL
CHEERS TO FALL/WINTER AND ALL THAT GLITTERS!!
ALL WORDS AND CREATIVE DIRECTION MY OWN.