Kanye took to the stage tonight at the MTV Video Music Awards just a couple of days since his secret art exhibit in Los Angeles featuring BED from his music video "Famous". There has been a lot of controversy over this and tonight he didn't hesitate speaking, of course.
He poked at politics, addressed the extreme issue of gun violence and had the crowd chuckling at the idea of his album "Famous" losing to Beyonce. During this time he was also able to call out his ex lady Amber Rose and immediately pay hommage to his wife Kim Kardashian West, referring to her as a "G".
Soon after his 4 minute long speech, he graces us (Haha) with the exclusive visual for the release of his song "FADE". It features Cute Tomboy Teyana Taylor and cannot further stress the word WOW!! For one, she looks absolutely amazing and second, she takes us back to 1983 with "Flashdance" vibes, modernizing it as she dances her life away in the gym! After that visually exhausting workout, you see her in the shower making love to her real-life husband Iman Shumpert who happens to also play for the Cleveland Cavaliers.
The end was a bit of a shocker for me as I feel it immediately took me back to an image from Michael Jacksons video, Thriller. I do believe it is intended to reference he and Kim.  I will end with that as I am sure by this point, you want to watch this for yourself. 😀
Check it on Vimeo here! VIDEO FADE EXCLUSIVE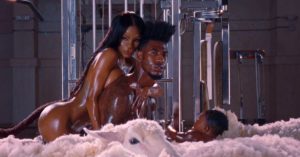 All words and creative direction my own.